---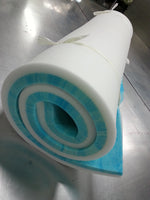 Do you feel like your mattress is too soft or too firm? Instead of throwing your mattress completely away we suggest adding a mattress topper. Unlike traditional mattress topper, Foam N' More offers a wide range of toppers that helps promote a better night sleep.
This product is 2" thick with 1" thick premium Medium foam with 1" thick Memory Foam.
Here at Foam N' More we offer multiple mattress topper combinations. These mattress toppers will help add additional layer of comfort to your existing mattress while reliving aches and pains. All toppers are rubber based, which means they will not break down like ordinary foam. They will maintain their original shape and density for many years
 Prices listed are for foam only. Cover options are available. Please contact us for details.